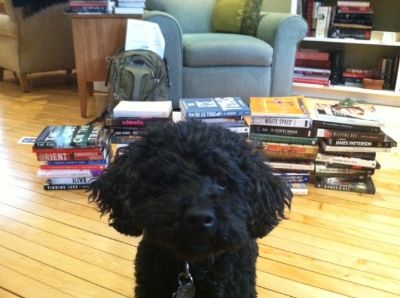 Welcome to The Bookkeeper's Apprentice, my book blog! The above is my dog Sherlock, in front of just some of my books (that above collection is from my visit to ALA this year). I am an avid reader, (even reading while I walk!), a former English major, and a Pre-K teacher.
This blog will be a collection of my thoughts on books, books read, books I want to read, lists, suggestions, and much much more. I am always open to suggestions/requests for things you'd like to see me talk about in future blog posts.
I collect all versions of anything Agatha Christie ever wrote, and anything Sherlock Holmes. I tend to read mysteries and true crime predominantly, though many other genres always find their way onto my shelves.
My favorite authors include Agatha Christie, P.D. James, Ngaio Marsh, Will Lavender, Sir Arthur Conan Doyle, Erle Stanley Gardner, Erik Larson, Marisha Pessl, Gilian Flynn, Jennifer McMahon, Donna Tartt, Kimberly McCreight, and Laurie King.
My favorite books include The Westing Game, Murder on the Orient Express, The Murder of Roger Ackroyd, And Then There Were None, Promise Not to Tell, Dominance, Obedience, The Hound of the Baskervilles, The Devil in the White City, Night Film, Dark Places, Sharp Objects, Gone Girl, Promise Not to Tell, The Secret History, Reconstructing Amelia, and The Beekeeper's Apprentice.
I am very excited about this blog, and I hope you are too!
As always,
The Bookkeeper's Apprentice